Pasta with Beans (pasta e fagioli) Recipe from Veneto.
Here in Veneto, Northern Italy, one of the most popular, hearty and nutritious cold weather dishes is pasta with beans. Italians say 'pasta e fagioli'. Variations of this soup exist in most other Italian regions, however Veneto and Tuscany claim it as their own!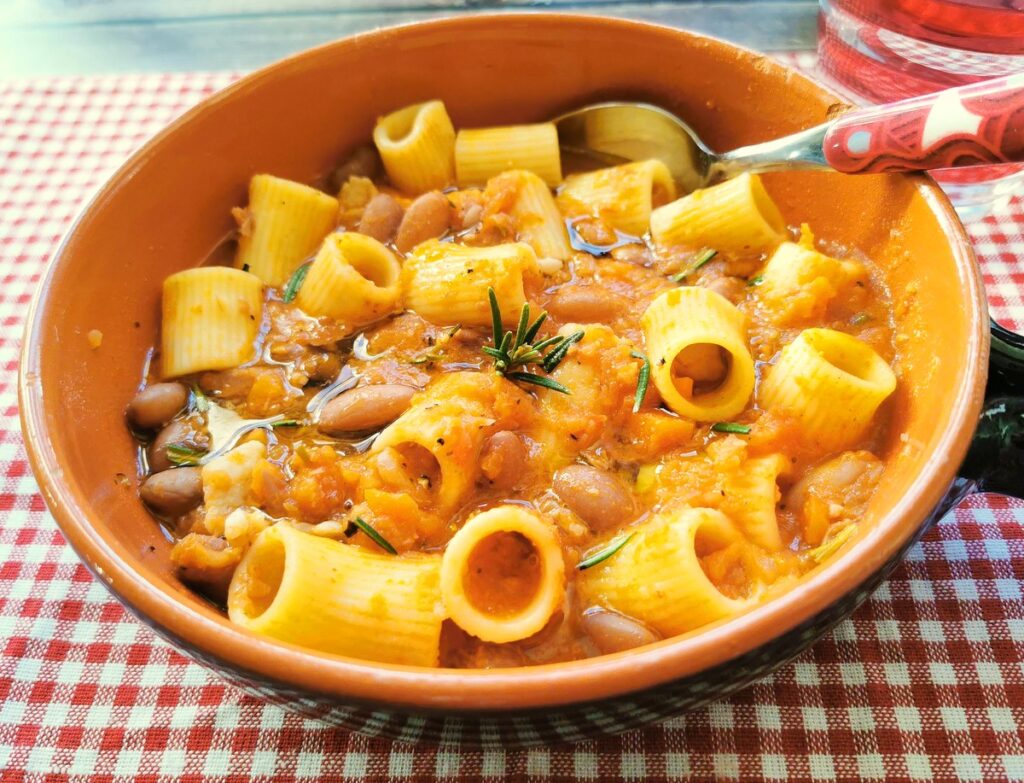 One of the things I love about winter is soups! Nothing is more warming than a big bowl of homemade soup. And for this reason, I usually can't wait for soup season to arrive! There are a number of traditional soups made with pasta in Italy. However, pasta with beans is probably one of the most popular!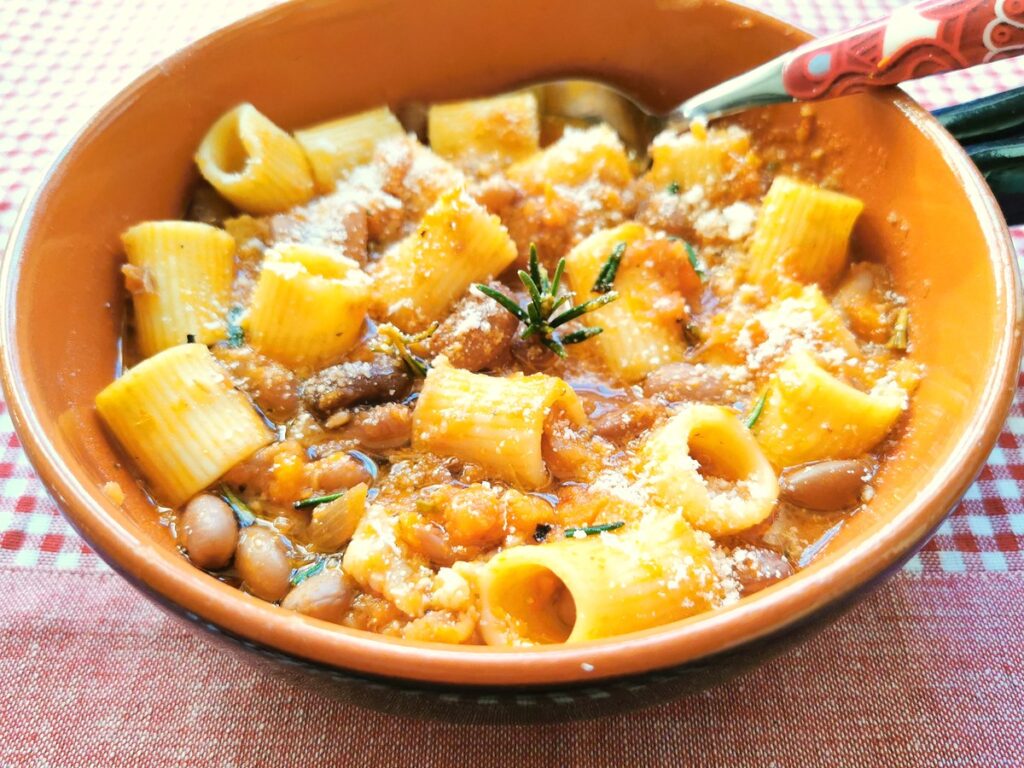 A little pasta with beans history!
Legend has it that the original pasta with beans recipe was born in the inns of ancient Rome! Of course, the Romans didn't use the kind of pasta we have today. Instead, they had 'lagana', a flat pasta believed to be the earliest version of lasagne.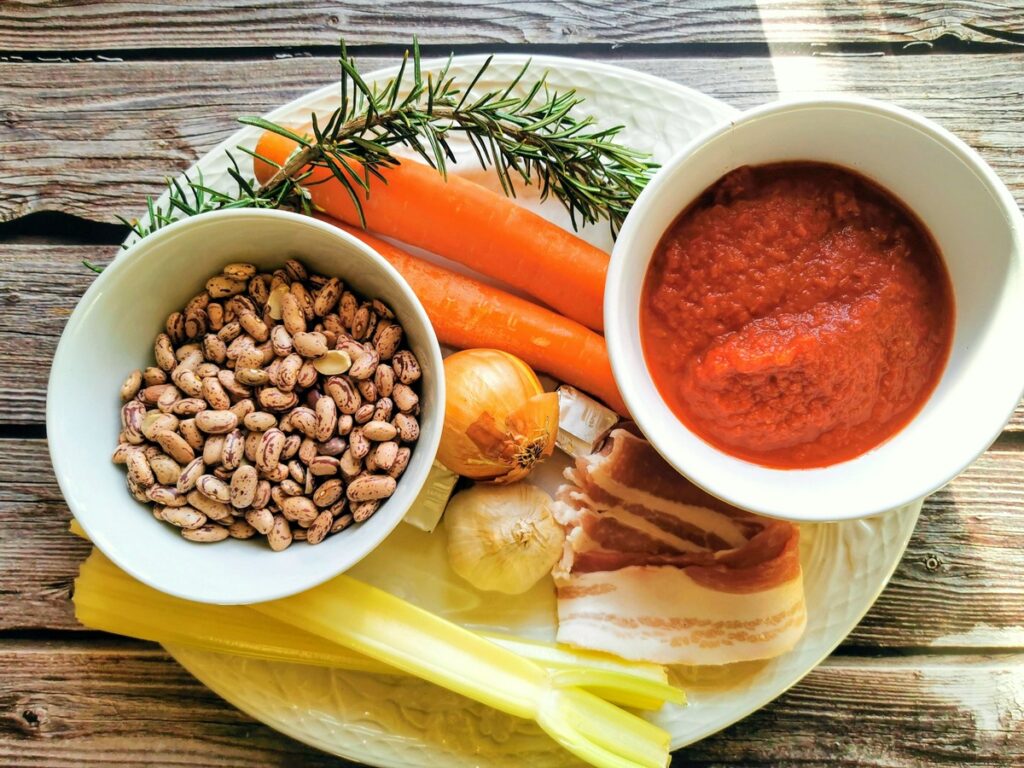 I'm not a hundred percent sure that lagana was the pasta the Romans used in their pasta with beans. However, this soup was certainly a cheap, nutritious and tasty dish suitable for feeding the many different inn customers.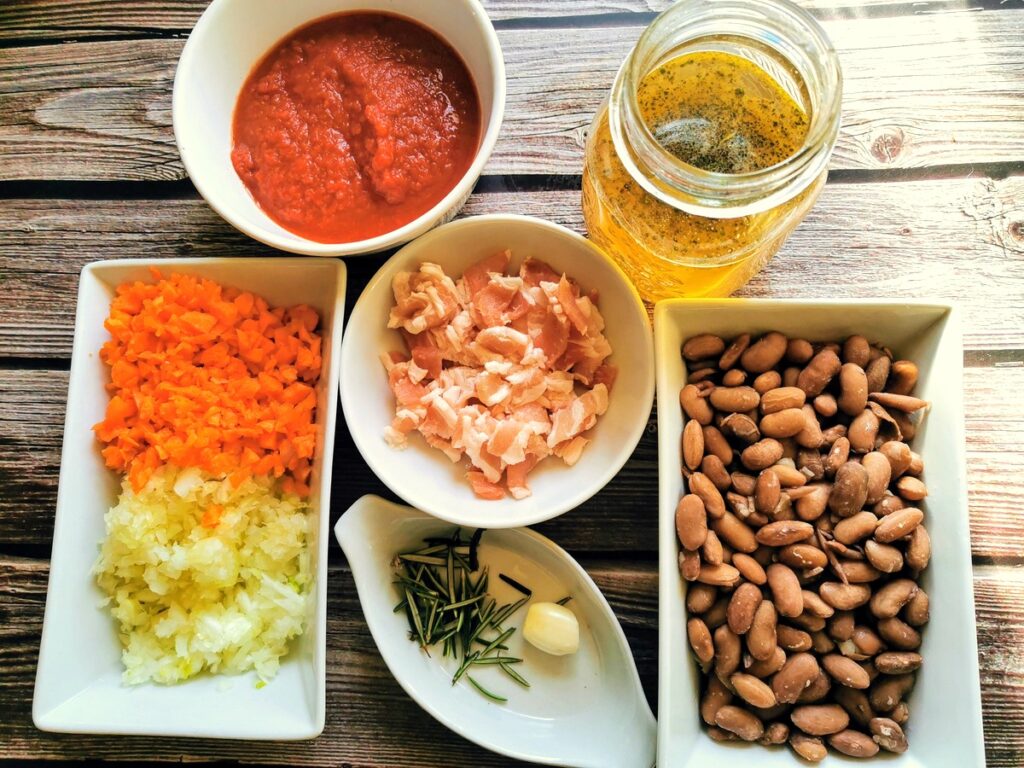 Pasta with beans later became popular with the rural population as they could make it with their own home produce.
Here in Veneto, pasta with beans became a traditional autumn soup because this was the time of year families slaughtered pigs. Pork rind and bones were used to flavour the soup. Today, of course, we don't need to slaughter a pig to make it. Adding some good pancetta or guanciale works well too!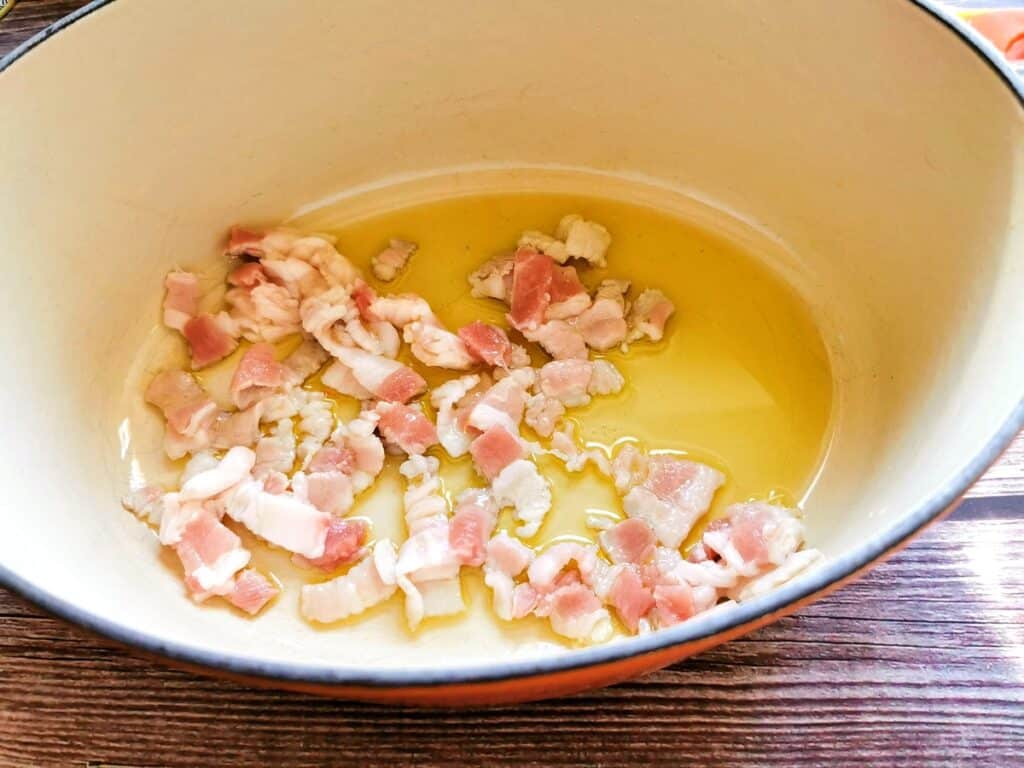 Canned or dried beans?
There are two ways you can make this dish, with dried beans or with canned beans. I prefer to use dried beans. However, this means the beans need to be soaked overnight, then cooked. So, using dried beans means the soup will take longer to make.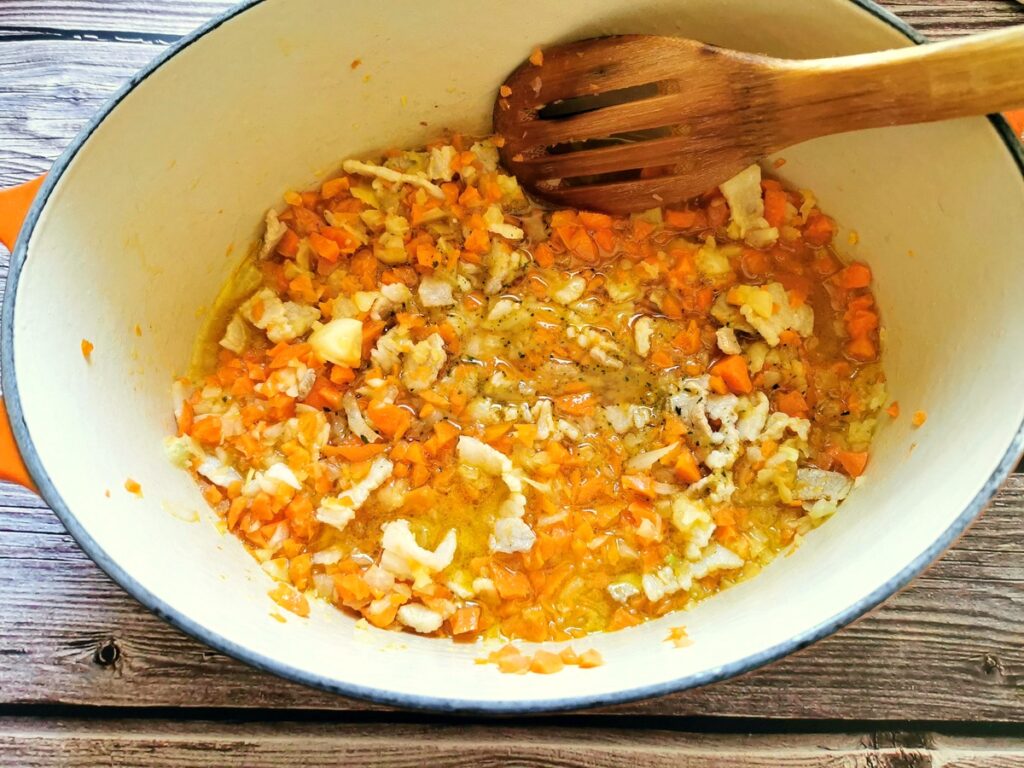 Pasta and beans for vegetarians.
This version of pasta e fagioli has pancetta. You can also use normal bacon or guanciale. In Naples, they still make it with pork rind, like in the past. They also have a version with mussels which is delicious!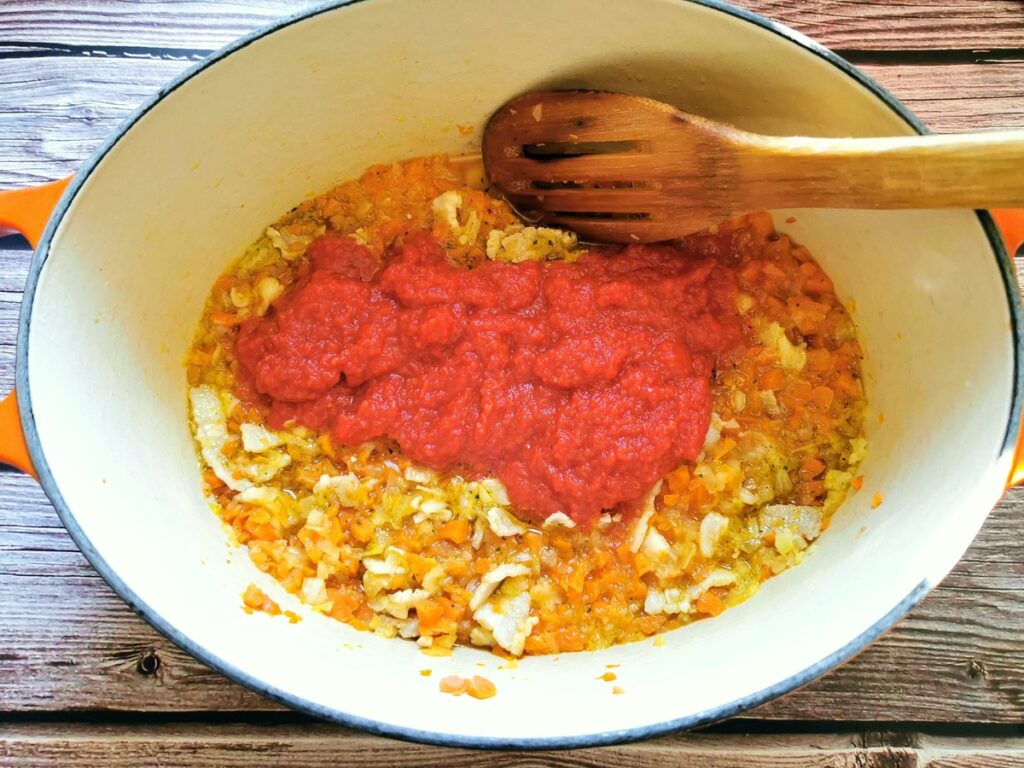 To make pasta with beans vegetarian, just leave out the pancetta and use vegetable stock instead of beef. Also, if you want to serve your soup with grated cheese, use a vegetarian cheese as Parmigiano is made with animal rennet.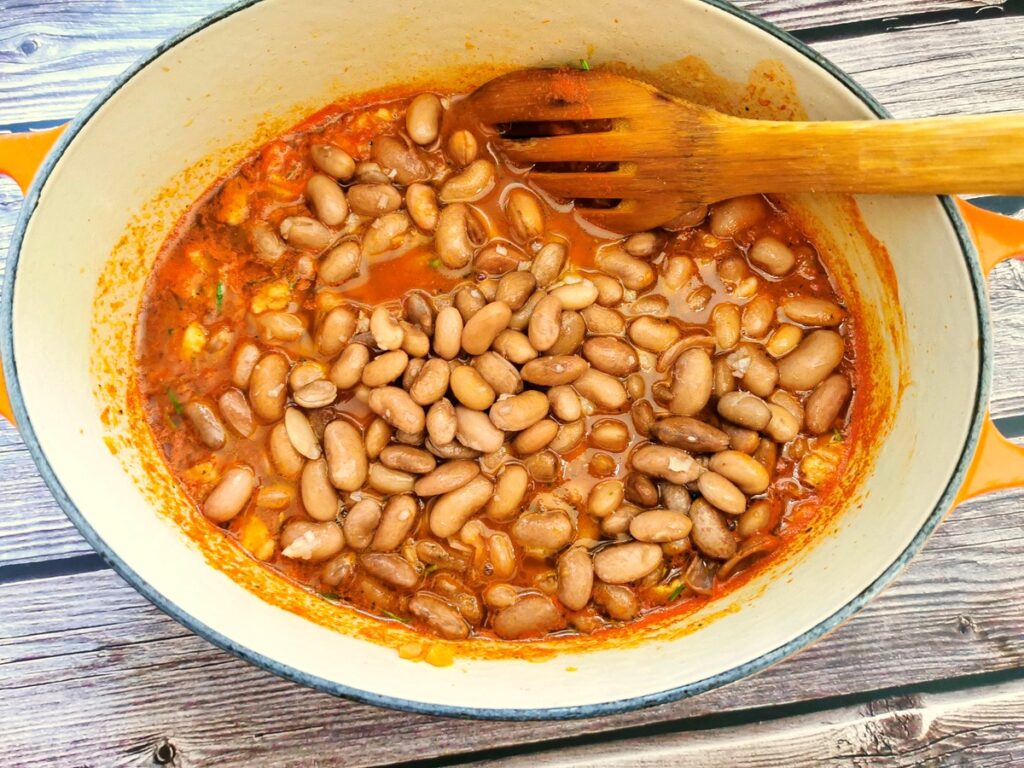 Making this pasta e fagioli.
Apart from pre-cooking the beans, the rest of this recipe is quite simple and takes about an hour. After preparing the ingredients, the next step is to cook the pancetta (if using). Then add the finely chopped onion, carrot and celery. Italians call this combination 'soffritto'. It's the basis of many Italian dishes.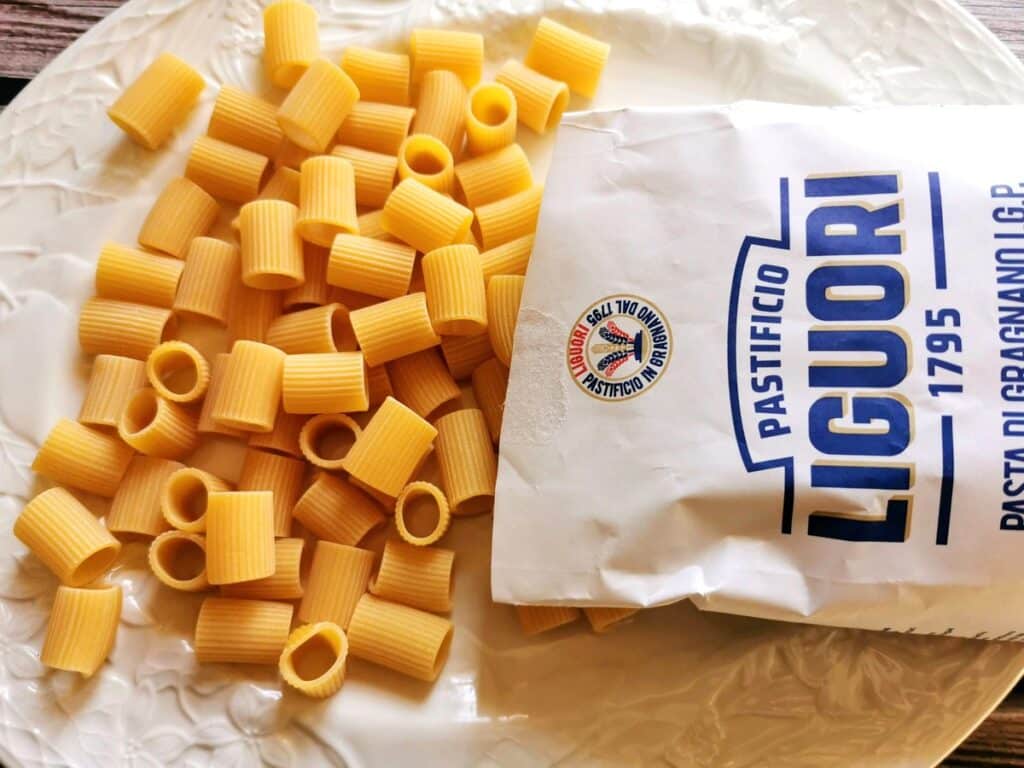 After that, mix in some broth or stock, the tomato passata and then the beans. Some versions of pasta e fagioli are made without tomatoes. In that case, they use more broth and some of the bean cooking water. I like this version with tomato passata.
Before cooking and adding the pasta, I take 3 ladlefuls of the soup and liquidize it for a creamier thicker soup. Feel free to omit that step, if you prefer.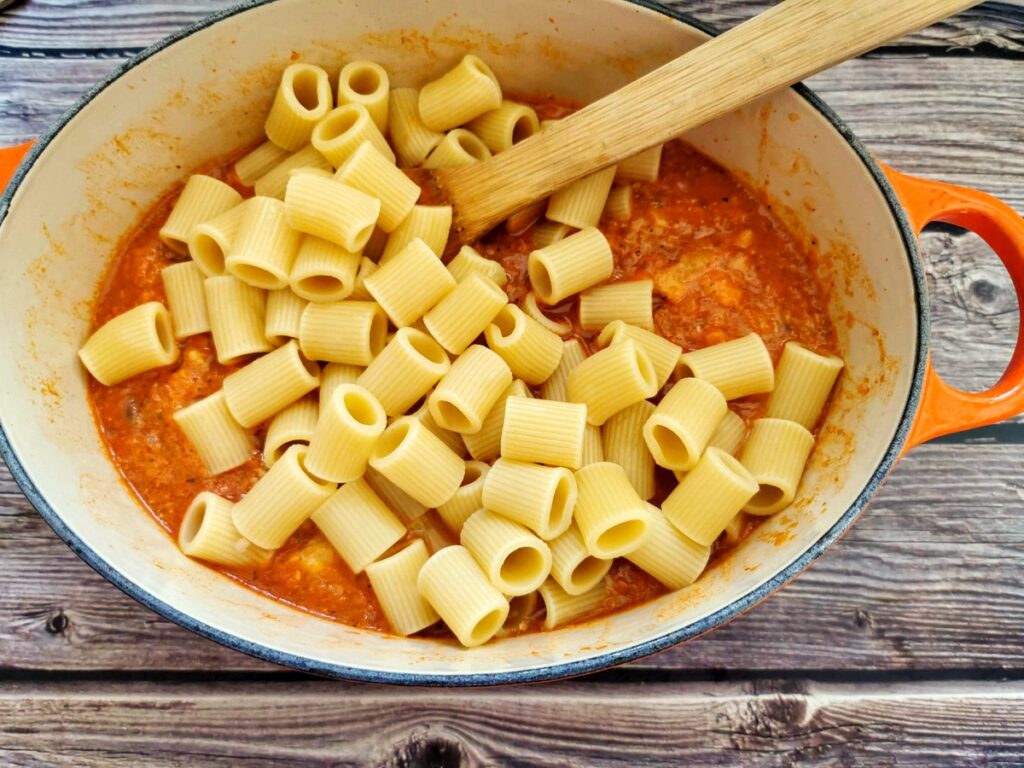 The pasta.
Traditionally, pasta with beans is made with small pasta tubes like ditalini, ridged ditaloni or mixed pasta (pasta mista) . You can see the latter in my recipe for Tuscan pomarola. For this recipe, I used mezzi rigatoni from pastamakers Liguori. These pasta tubes are a bit larger than ditaloni but they were delicious.
The Venetians also use a homemade flat egg pasta cut into small rectangular or diamond shapes. In some places, they break spaghetti into pieces and add that to the soup.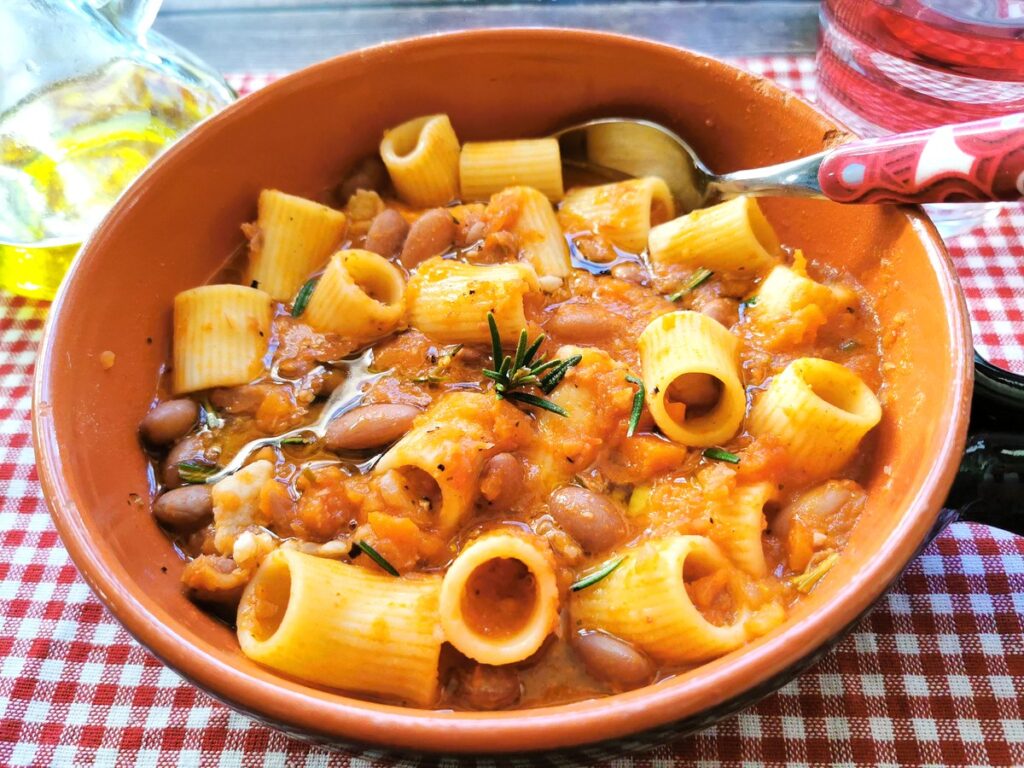 Whichever kind of pasta you use, I am sure this pasta with beans soup will become a regular favourite! It is certainly one of mine! It's easy to do and well worth the time spent preparing it.
If you do make this pasta e fagioli , I'd love to hear how it turns out and if you liked it. Please leave a comment here on the blog or on our Page
Looking forward to hearing from you!
Buon Appetito!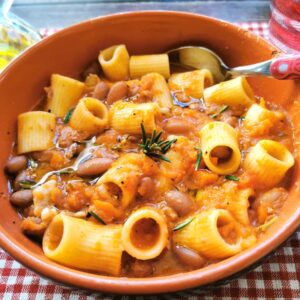 Print
Pasta and Beans soup (pasta e fagoli)
A tasty nutritious soup from Veneto, Italy, which is immensely warming, healthy and tasty! Perfect for colder weather family meals. Course Main Course, SoupCuisine Italian, VenetoKeyword authentic Italian pasta recipe, pasta soup, pasta with beans, Veneto Prep Time 15 minutesCook Time 45 minutesTotal Time 1 hour Servings 4 Calories 603kcal Author Jacqueline De Bono
Ingredients
250 g crushed tomotoes (9oz) polpa/ passata
2 celery stalks medium sized finely chopped
80 g pancetta (3oz) or guanciale
400 g Borlotti beans (14oz) if using dried beans soak overnight and then cook in salted water for 2 hours
1 garlic clove peeled
1 medium sized carrot finely chopped
0.5 lts beef stock (2 cups) or vegetable stock
1 small onion peeled and finely chopped
extra virgin olive oil
black pepper/ salt to taste
1 tsp rosemary fresh or dried
300 g ditaloni pasta (10.5oz)
50 g Parmigiano Reggiano (2oz) grated for serving if required
Instructions
Dissolve 2 stock cubes in half a liter of boiling water.
Chop the onion, celery and carrot very finely (in a food mixer is good). Cut the pancetta or guanciale into thin pieces. Peel the garlic. If using canned beans, drain them.
Heat a tablespoon of olive oil in a pan. Add the garlic clove peeled but not cut and cook it until it browns, then remove it. Add the pancetta to the pan and cook until the fat starts to melt.
Add the finely chopped vegetables to the pan and cook until they start to soften. Then, add a ladleful of the stock and cook the vegetables another minute or two.
Add the crushed tomatoes (passata) and salt and pepper as desired.
Add another ladleful of stock and cook for a couple more minutes.
Add the precooked beans and mix the ingredients well, whilst adding the last of the stock. Allow to simmer for 10 minutes.
Put the water on to boil for the pasta.
Whilst waiting for the water to boil, remove 3 ladlefuls from the soup and liquidize it in a food processor until it's smooth and creamy. Then add this mixture back into the soup and stir well.
When the pasta is cooked al dente (according to the instructions on the packet), drain and add it to the soup.
Season with the finely chopped rosemary and pour into bowls. Add a little olive oil to the soup just before serving ( don't mix it in) and grated cheese if required
Notes
For a vegetarian version of this soup, just leave out the pancetta and use vegetable stock instead of beef. You can make this soup with other types of small pasta tubes or even broken up spaghetti! Dried beans need to be soaked overnight in cold water. Then drained and rinsed. Finally cook them for about 45 minutes to one hour in slightly salted water. When ready, drain and set aside to be used in the soup. Some people also add some of the bean cooking water to the soup. I didn't do this.
Pin for later.
The post Pasta with Beans Soup (pasta e fagioli) appeared first on The Pasta Project.